According to the Centers for Disease Control and Prevention (CDC), growing influenza viruses in eggs can introduce changes that cause the body's immune system to produce antibodies that are less effective at preventing diseases caused by the specific influenza viruses in circulation.2 By maintaining virus in cells from the initial isolation, cell-based influenza vaccines help avoid egg-adapted changes and may result in vaccines containing virus that is more "like" wild-type circulating viruses.
"Egg-based vaccines are the standard of care and continue to play a critical role in the fight against influenza, but it's important to evolve approaches to vaccine development to ensure patients get the most effective protection," said Russell Basser, MD, Senior Vice President of Research and Development, Seqirus. "Our cell-based vaccines offer the best match to circulating strains and are potentially more effective than egg-based influenza vaccines."
Seqirus is the largest cell-based influenza vaccine manufacturer in the world and continues to research novel ways to provide the highest standard of influenza protection for those most at risk. The company has been working with scientific partners to generate additional real-world effectiveness data from the 2017/18 season. This study has generated some exciting data on the comparative effectiveness between cell and standard egg-based vaccines which the company expects to release in the coming weeks.
"The burden and impact of influenza remains one of the most important global healthcare concerns of our time and ensuring we have effective vaccines is a public health imperative," said Gordon Naylor, President, Seqirus. "The findings presented at IDWeek reinforce the role of innovative technologies, such as cell-based vaccines, in reducing deaths and severe illness caused by influenza."
"The release of these data follows the 2019 Southern Hemisphere strain selection meeting last week in Atlanta where the World Health Organization for the first time recommended a change to the egg-derived H3N2 strain but not to the cell-derived H3N2 strain," said Ethan Settembre, Vice President of Research, Seqirus. "The WHO decision is unprecedented and consistent with the data Seqirus is presenting at IDWeek. It is exciting to see scientific evidence being translated into strain recommendations."
About the Study
Using publicly available reports from the Worldwide Influenza Centre, Seqirus evaluated the degree of match (antigenic similarity) between the circulating (wild type) H3N2 influenza virus and reference (candidate vaccine virus) H3N2 virus derived from both eggs and mammalian cells over 12 influenza seasons. Results found that there was a higher proportion of similarity between the circulating influenza virus and the cell derived reference virus compared to the egg-derived reference virus (Figures 1 & 2). Furthermore, for more than half of the influenza seasons evaluated, there was little or no antigenic similarity between the circulating H3N2 virus and the egg-derived H3N2 virus used to produce egg-based influenza vaccines.3,4,5,6,7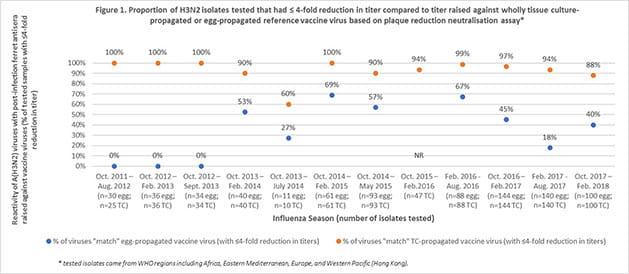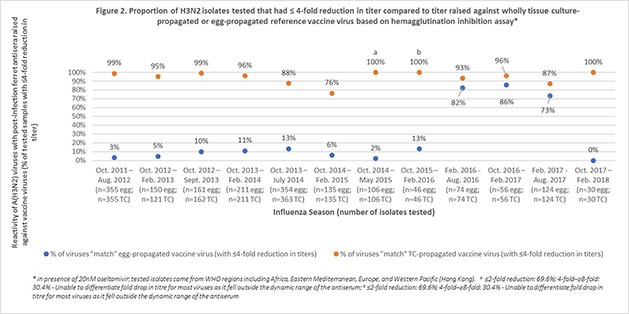 About Seasonal Influenza
Influenza is a common, highly contagious infectious disease that can cause severe illness and life-threatening complications in many people. To reduce the risk of more serious outcomes, such as hospitalization and death, resulting from influenza, the CDC encourages annual vaccination for all individuals aged 6 months and older. Because transmission to others may occur one day before symptoms develop and up to 5 to 7 days after becoming sick, the disease can be easily transmitted to others. Influenza can lead to clinical symptoms varying from mild to moderate respiratory illness to severe complications, hospitalization and in some cases death. The CDC estimates that 600,000 people in the United States were hospitalized due to influenza-related complications during the 2016-2017 influenza season. Since it takes about 2 weeks after vaccination for antibodies to develop in the body that protect against influenza virus infection, it is best that people get vaccinated to help protect them before influenza begins spreading in their community.
For more information visit www.seqirus.com and www.csl.com.
About Seqirus
Seqirus is part of CSL Limited (ASX:CSL), headquartered in Melbourne, Australia. The CSL Group of companies employs more than 20,000 people with operations in more than 60 countries.
Seqirus was established on 31 July 2015 following CSL's acquisition of the Novartis influenza vaccines business and its subsequent integration with bioCSL. As the second largest influenza vaccine provider in the world, Seqirus is a major contributor to the prevention of influenza globally and a transcontinental partner in pandemic preparedness.
Seqirus operates state-of-the-art production facilities in the US, the UK and Australia, and manufactures influenza vaccines using both egg-based and cell-based technologies, as well as a proprietary adjuvant. It has leading R&D capabilities, a broad portfolio of differentiated products and a commercial presence in more than 20 countries.
Media Contact
Polina.Miklush@Seqirus.com
+1 (908) 608-7170
Polina.Miklush@Seqirus.com


References
1. Rajaram S., Van Boxmeer J., Leav B., et al. (2018). Retrospective evaluation of mismatch from egg-based isolation of influenza strains compared to cell-based isolation and the possible implications for vaccine effectiveness. Presented at IDWeek 2018, October 2018.
2. Centers for Disease Control (CDC). (2018). Estimated influenza illnesses, medical visits, and hospitalizations averted by vaccination in the United States. Retrieved from https://www.cdc.gov/flu/about/disease/2016-17.htm. Accessed October 1, 2018.
3. Belongia E.A., Simpson M.D., King J.P., et al. (2016). Variable influenza vaccine effectiveness by subtype: A systematic review and meta-analysis of test-negative design studies. Lancet Infect Dis, 16:942–951. doi:10.1016/S1473-3099(16)00129-8.
4. Zost S.J., Parkhouse K., Gumina M.E., et al. (2017). Contemporary H3N2 influenza viruses have a glycosylation site that alters binding of antibodies elicited by egg-adapted vaccine strains. PNAS, 114(47)12578-12583. doi:10.1073/pnas.1712377114.
5. Wu N.C., Zost S.J., Thompson A.J., et al. (2017). A structural explanation for the low effectiveness of the seasonal influenza H3N2 vaccine. PLOS Pathogens, 13(10): e1006682. doi:10.1371/journal.ppat.1006682.
6. U.S. Food & Drug Administration (FDA) Statement. (2018). Statement from FDA Commissioner Scott Gottlieb, M.D. on the efficacy of the 2017-2018 influenza vaccine. Retrieved from https://www.fda.gov/NewsEvents/Newsroom/PressAnnouncements/ucm597077.htm.Accessed April 24, 2018.
7. The Francis Crick Institute. (2018). Worldwide Influenza Centre: Annual and Interim Reports – February 2018 interim report. Retrieved from https://www.crick.ac.uk/research/worldwide-influenza-centre/annual-and-interim-reports/. Accessed April 27, 2018.